With the continued growth of the sharing economy and the recent rise of remote work, the vacation rental industry has been steadily expanding its market share. According to Statista's market forecast, the Airbnb market is thriving, offering lucrative opportunities for individuals seeking to establish their own businesses. However, the increasing property prices have posed a substantial challenge for many people looking to engage in the Airbnb business. So, is there a way to earn money through Airbnb without owning a property? The answer is yes! Airbnb rental arbitrage is one of the most common methods.
What is Airbnb arbitrage?
Arbitrage is a widely known business model, similar to renting a space in a shopping mall and generating income through operations. In the context of Airbnb, rental arbitrage refers to the practice of subleasing a property that you have leased, to short-term guests in order to profit from it.
This business model is particularly suitable for newcomers in the Airbnb industry, as it eliminates the need to bear the high costs of property ownership. Instead, effective management is key to ensuring that revenue exceeds expenses.
The Pros and Cons of Airbnb arbitrage
Airbnb rental arbitrage offers a flexible and potentially lucrative business model in the sharing economy. However, like any other business venture, it is essential to weigh the pros and cons before making a decision.
Pros:
1. Low startup costs: You don't need to bear the high costs of purchasing a property.
2. High flexibility: You can easily switch or expand your business at any time.
3. Exclusive profits: You don't have to share the revenue with property owners.
4. Lower investment risk: Compared to property ownership, the investment risk is significantly lower.
Cons:
1. Prohibitions on subleasing: Some areas have regulations that prohibit or restrict subleasing.
2. Unwilling landlords: Some property owners may not want their properties to be subleased, especially on Airbnb.
3. Saturation in popular areas: The market in popular areas may be approaching saturation, leading to intense competition.
4. Risk of property damage: Guests may pose a risk of damaging the property, and you will be responsible for the repair costs.
How much can you earn through Airbnb arbitrage?
There is no exact answer to this question, as it varies based on different locations, property conditions, and operational capabilities. The final results can differ significantly.
However, in general, the cost structure of Airbnb rental arbitrage is relatively clear and includes factors such as property rent, cleaning fees, furniture depreciation costs, Airbnb commissions, and property management system (PMS) fees. According to the experience of most hosts, if managed properly, you might generate profits that are equivalent to 2-3 times the cost.
How to do Airbnb arbitrage?
The success of Airbnb arbitrage as a business model mainly depends on your strategies and management capabilities. So now, let's explore some key strategies and management practices to help you achieve success in Airbnb arbitrage.
Identify Target Market
First and foremost, you need to determine the type and demands of your target market. These could be tourist hotspots, frequent business travelers, or other specific types of travelers. Understanding the characteristics and preferences of your target market will help you adjust pricing, and provide appropriate amenities and services to attract more guests.
Develop Pricing Strategy
Developing a sound pricing strategy is crucial for Airbnb arbitrage. You need to consider seasonal demand fluctuations, differences during weekends and holidays, and other relevant factors. Additionally, pay attention to market trends and competitor prices to ensure your pricing is competitive while still generating reasonable profits.
Optimize Property Decoration and Amenities
In order to attract more guests and provide a comfortable stay experience, you can consider decorating the property and enhancing amenities. Choose simple yet effective improvements while keeping costs manageable, such as comfortable bedding, ample storage space, high-speed Wi-Fi, and well-equipped kitchens.
Marketing and Promotion
In the competitive Airbnb market, effective marketing and promotion strategies are key to attracting more guests. Utilize high-quality photos and appealing property descriptions to showcase your listing. Use keyword optimization and various tags on the Airbnb platform to increase the visibility of your property. You can also engage in social media promotion, collaborate with local tourism agencies, or invite travel bloggers to experience your property.
Provide Excellent Customer Service
Delivering high-quality customer service is crucial for receiving positive reviews and repeat guests. Respond promptly to guest inquiries and booking requests, providing detailed information and guidance. During the guest's stay, ensure their needs are met and actively resolve any issues. Pay attention to guest feedback and continuously improve your services.
Efficient Operations and Maintenance
Efficient operations and maintenance are crucial for ensuring guest satisfaction and maintaining a good reputation. You need to strive to achieve the following goals:
Ensure your listings rank high in Airbnb search results.
Respond promptly to booking requests and inquiries, actively resolving any issues.
Provide an exceptional stay experience, avoiding negative reviews.
By automating your business, you can enhance the customer experience and save a significant amount of daily operational time, providing more opportunities for business growth and increased rental income. Especially when managing multiple properties across multiple booking platforms, investing in vacation rental software like Hostex.io to automate tasks is a wise idea.
Hostex will help reduce your workload in the following ways:
Manage multiple accounts and listings across all booking platforms.
Sync bookings across platforms, eliminating the risk of double bookings.
Sync messages across platforms, and never miss any booking requests.
Ensure timely communication through automated replies and triggered messages.
Create your own direct booking website with just a few clicks.
Securely process payments through integration with Stripe and PayPal.
Automatically schedule cleaning tasks and track their completion.
Automatically send reviews to guests, and earn more 5-star reviews.
Dynamic pricing control through integration with PriceLabs and Rategenie.
Access the mobile app and web portal simultaneously for multi-device management.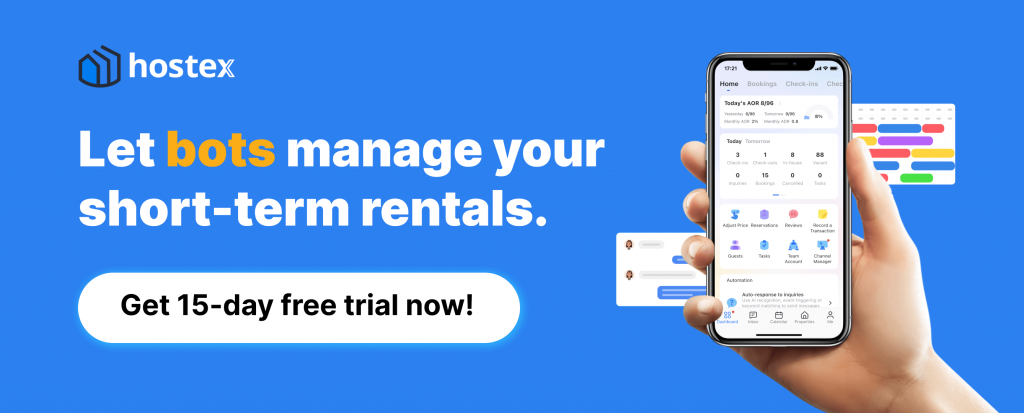 ---

In conclusion, Airbnb arbitrage is an attractive business model. However, the market is constantly evolving and changing, so it's crucial to maintain a learning and improvement mindset. Wise strategies, effective management, and adjustments based on market feedback will make your Airbnb arbitrage a profitable investment choice.