The convenient experience of booking Airbnb properties and the use of the Airbnb instant book feature is significantly contributing to Airbnb growing popularity. From perspective, they encourage hosts who utilize Property Management Systems (PMS) like Hostex to activate Airbnb instant book. This feature proves advantageous for both Airbnb hosts and property managers in simplifying the Airbnb booking process.
However, some short-term rental hosts have been hesitant to enable Airbnb instant book feature. They worry that the lack of detailed guest book information about potential guests prior to booking may pose unknown risks to their Airbnb business operations. So, how should they make a decision? Let's delve deeper into this topic.
What is Airbnb instant book?
Instant book is a significant feature on the Airbnb platform that allows hosts to enable their listings for immediate booking. Guests can book the accommodation directly without requiring manual confirmation from the host.
Once you activate Airbnb instant book for your listing, it applies to all available dates on your calendar. As long as the guests meet your specified booking requirements, they can make a reservation for your vacation rental instantly.
Guests appreciate the convenience of using Airbnb instant book, as it simplifies the booking process. Many hosts have also expressed that instant book can generate more income and they enjoy the convenience it brings. It's a win-win situation for both hosts and guests!
Advantages of Airbnb instant book
To help you decide whether enabling the instant book feature is a good idea, let's explore the benefits it can bring to short-term rental hosts.
Time-saving
By enabling Airbnb instant book, you no longer need to manually respond to each traveler's booking request. This saves you significant time and energy, making your life easier. Additionally, if you utilize automation features like Hostex.io, you can save even more time in guest communication. It helps automate conversations with guests, allowing you to focus on other important tasks.
Increased bookings
Instant book listings are more appealing to guests as it allow them to plan their trips more freely. According to Airbnb, enabling Airbnb instant book can increase your booking volume by up to 20%. Additionally, it serves as a great way to capture last-minute bookings, which account for 40% of all bookings.
Enhanced exposure
Airbnb search page allows guests to filter listings that have instant book enabled, signifying its endorsement by Airbnb. Data shows that nearly 70% of Airbnb bookings are made through instant book.
Improved search ranking
Enabling instant book gives you the opportunity to appear in the top listings on search results, significantly increasing the visibility of your property. Moreover, instant book positively affects your response rate, which contributes to higher rankings in search results. Conversely, if instant book is not enabled, your listing's ranking on Airbnb automatically decreases.
More guest reviews
More bookings mean more opportunities to receive guest reviews. Obtaining positive reviews from satisfied guests enhances your reputation, as it increases credibility and value. By utilizing Hostex.io's automated review tools, you can further increase the chances of receiving positive reviews.
Achieving Superhost status
With all these benefits, you are gradually moving closer to meeting the criteria for Superhost status. Therefore, enabling instant book gives you a greater chance of becoming a Superhost.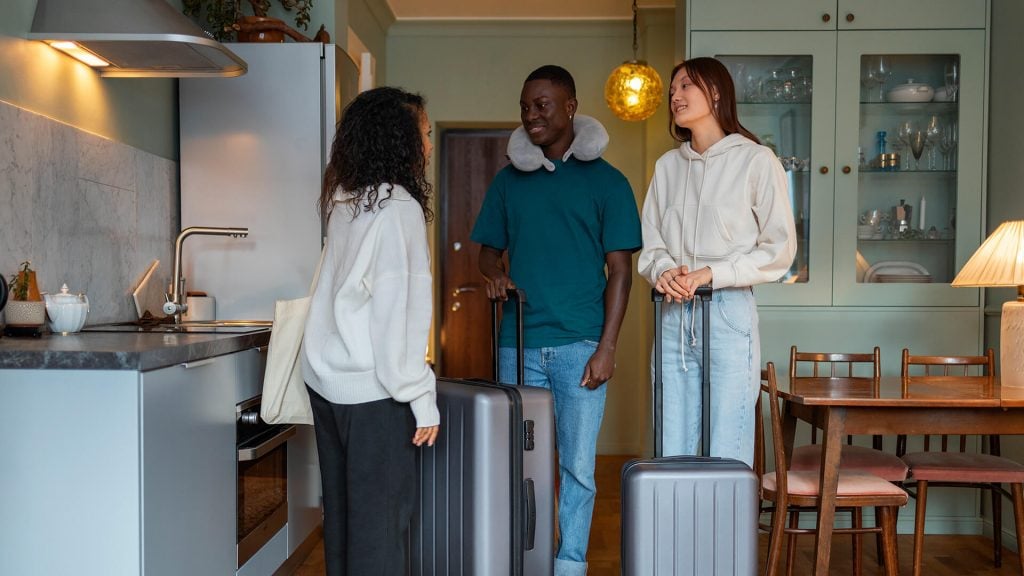 Disadvantages of Airbnb instant book
Some hosts may have reservations about using the instant book feature, fearing that it eliminates barriers between hosts and guests and relinquishes their control over bookings.
However, such concerns are unnecessary.
You can set your own requirements to enable instant book only for guests with a good track record (at least one previous stay with no negative reviews) and those who have successfully completed the Airbnb multi-step verification process. Guests must meet all your booking conditions and agree to your house rules before using the Airbnb instant book feature.
What should I be aware of after enabling instant booking on Airbnb?
After enabling instant book, there are several things to consider in order to minimize the possibility of cancellations and enhance guest satisfaction for vacation rental hosts.
Set clear descriptions and rules
Ensure that your listing has a clear and accurate description, house rules, and cancellation policy. This helps establish clear communication with guests, and they will have clear expectations of your listing before making a reservation. This can effectively avoid misunderstandings, negative reviews, and cancellations due to unmet expectations.
Establish admission requirements
You can set requirements such as minimum stay duration, advance booking notice, or acceptance of specific types of guests. This ensures that guests align with your expectations. For example, same-day bookings can catch many Airbnb hosts off guard as they need time to clean and prepare the property. You may want to avoid such last-minute bookings. You can set a notification time of one day to accept all bookings or set a longer notice period as per your needs.
Respond promptly to inquiries
Since instant bookings are confirmed immediately, it's crucial to respond promptly to guest inquiries and requests. Quick responses can enhance your listing's credibility and booking rate, which is also a key assessment criterion for hosts by Airbnb. Automation tools like Hostex.io can help identify guest intentions and automatically answer inquiries, allowing you to respond promptly.
Keep availability updated
As instant bookings do not require host confirmation, it's essential to ensure that your calendar is always up to date to avoid conflicting reservations. If you manage multiple listings across multiple platforms, using automated property management software like Hostex.io can help you easily update calendars, synchronize bookings, and manage reservation settings.
By paying attention to these considerations, you can maximize the benefits of enabling instant book while maintaining a positive hosting experience.
How to Disable Airbnb instant book?
Instant book is enabled by default, but as we discussed earlier, it may not be suitable for every host. You can disable it at any time in Hostex.
If you want to disable Instant Book, follow these steps:
Go to the room list in Hostex.
Click on the room you want to modify.
Switch to the "Pricing & Rules" settings on the right side.
Locate and click on your Airbnb listing.
Disable the instant book and save the changes.
However, on the other hand, instead of disabling Instant Book, Airbnb encourages hosts to explore other useful options and choose what suits their listings. For example, if you find that there isn't enough time to clean the property between bookings, you can edit the calendar settings to automatically block dates between reservations.
---
In conclusion, Airbnb instant book feature is convenient for both guests and hosts, saving a significant amount of time. You can try this feature to see if it has a positive impact on your vacation rental business. Then, you can decide whether to continue using it.