People opt for vacation rentals like Airbnb for their travel accommodations in the quest for a more personalized and inviting stay. The check-in process is the first touchpoint for their short term rental experience and sets the tone for the entire stay. As an Airbnb host, providing a seamless, hassle-free check-in procedure can leave a positive first impression and lay the foundation for an enjoyable journey. In this article, we'll explore some practical strategies and tips to curate a smooth arrival experience for your Airbnb guests.
Comprehensive arrival instructions
Clarifying arrival instructions is vital for a frictionless check-in process. Besides sharing the check-in guidelines in advance, enriching the content to ensure guests have all the necessary information upon arrival is crucial.
Check-in Time: Remind Airbnb guests about their check-in date and provide a specific check-in time frame. Let your guests know if they can't check in before or after a specific time, helping them plan their itinerary accordingly.
Specific Address: Give your Airbnb guests landmarks or highlights around your vacation rentals in addition to the precise location. This way, guests can effortlessly identify the correct location on their journey to the property.
Traffic Tips: Supplement your guests' potential transportation options with detailed information about public transportation fares, operating hours, nearby stations, traffic conditions, and parking suggestions.
Check-in Information: Specify check-in and check-out rules, such as cleaning up before departure or returning the key to a designated spot. Clear instructions will help guests comply with the rules and maintain the cleanliness and safety of your Airbnb.
Additional Information: Include extra local information like weather forecasts, parking restrictions, noise control policies, and cultural etiquette of the city or country. This extra detail will make guests feel cared for and help them better integrate into the local environment.
Hostex.io is a fantastic platform that assists an Airbnb host in automatically sending well-structured check-in instructions. By using this platform, short term rental hosts can manage their check-in instructions, ensuring guests have all the necessary information before their arrival.
Self check-in options
Offering self-check-in is convenient for guests who prefer autonomy, particularly contactless check-in. This method allows guests to enter the property directly upon arrival, without waiting or engaging in face-to-face communication with the Airbnb host. It significantly enhances guest satisfaction and convenience.
To ensure a smooth self-check-in process, an Airbnb host should plan and design the procedure in advance. This includes providing accurate door lock codes or instructions and conducting thorough reliability testing to avoid any issues during check-in.
You can optimize the check-in process by utilizing the check-in guide feature offered by Hostex.io. This feature allows short term rental hosts to customize the guide's content according to their preferences and requirements. Upon receiving the check-in guide, guests only need to provide the necessary identification information as requested by the host. This enables them to access accurate and comprehensive details, such as door lock codes and concierge contact information. The personalized nature of this service grants guests a greater sense of freedom and comfort while simultaneously reducing the workload for an Airbnb host.
Flexible check-in time
Travel plans vary among individuals, and guests appreciate the flexibility to choose their check-in time. To cater to their needs, an Airbnb host can consider offering flexible check-in times, allowing guests to select the most suitable time based on their schedules.
In addition to flexible check-in times, providing luggage storage is a considerate service for guests. Sometimes, guests may arrive at the destination before the official check-in time. Hosts can provide a secure area where guests can safely store their belongings, enabling them to freely explore the surroundings or engage in other activities while waiting to check-in.
These details further enhance guest satisfaction and comfort, making them feel valued. Short term rental hosts can also establish a trusting relationship with prompt guests, adding more value to their accommodation experience.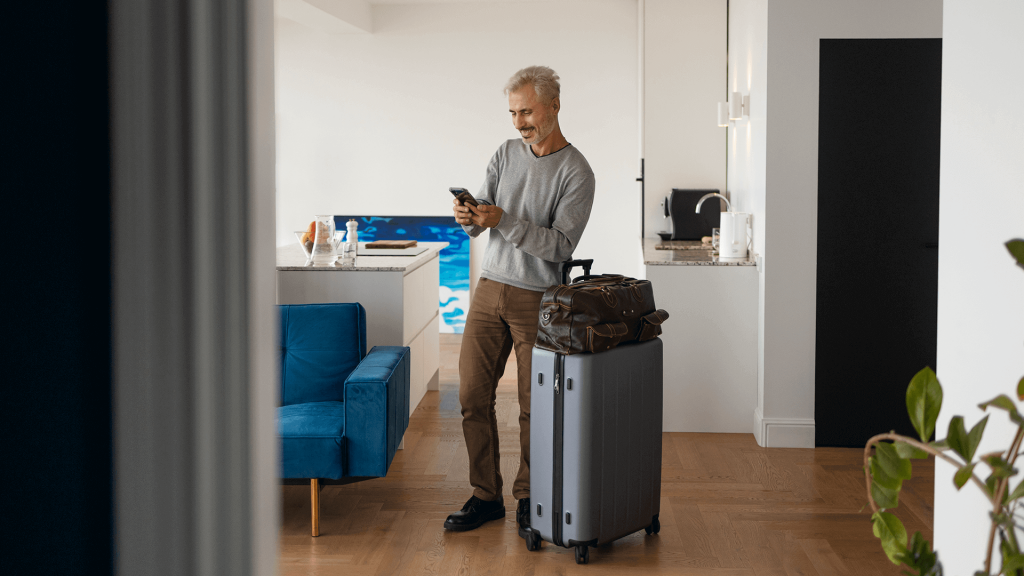 Warm hospitality
To make a positive first impression on guests, it's important to display a warm and friendly attitude when given the opportunity to personally greet them as an Airbnb host. Show them the main facilities and features of the property and patiently address any inquiries they may have. This welcoming reception helps guests feel valued and cared for, establishing a positive interaction and trust relationship.
Even for a fully self-check-in vacation rental, it's possible to prepare a small gift basket or welcome gift for your guests. These thoughtful gestures make guests feel special and more at ease upon arrival, thereby enhancing guest satisfaction. A welcome package can consist of the following items:
Bottled water and snacks: Provide quick refreshment and satiate hunger for weary travelers.
Universal phone charger: Phones are essential tools for modern individuals, and having a charger readily available can be a great relief.
Personalized small gifts: Toys for children or treats for pets, adding a personalized touch.
Nearby attractions guide: Maps and information about nearby attractions, restaurants, shops, and entertainment venues.
Local activity recommendations: Suggest culturally unique and charming local activities or outdoor pursuits.
Appliance usage instructions: Provide instructions for using smart appliances and electronic devices.
FAQ list: Inform guests about property regulations and provide solutions to common issues.
By engaging in thoughtful preparation and offering personalized care, an Airbnb host can create a cozy and comfortable stay experience for Airbnb guests, making them feel valued and attended to. This greatly contributes to their overall enjoyment and satisfaction throughout their stay.
High standards of cleaning and maintenance
Short term rental hosts can use Airbnb's 5-step cleaning process to ensure thorough cleaning of the property before guests' arrival, and maintaining it in good condition are key to enhancing the guest's stay experience. In addition to regular inspections of facilities and equipment to ensure everything is functioning properly, special attention should be given to high-touch areas such as doorknobs, light switches, and remote controls, as well as often overlooked hygiene blind spots like floor drains and the underside of sofas. This way, guests will be left with a positive impression and their stay experience will be elevated.
Furthermore, to avoid encounters between cleaning staff and guests, it is important to schedule cleaning tasks for each property appropriately, especially for back-to-back bookings. Hostex.io offers an automated task assignment feature that automatically schedules cleaning tasks based on guests' check-in and check-out times. This eliminates the need for manual communication with the cleaning staff and minimizes the risk of task scheduling conflicts. Automation tools ensure the timely completion of cleaning tasks, keeping your property clean, and ensuring guest comfort and satisfaction.
---
As a professional Airbnb host, by employing these techniques and strategies, you can create a seamless and thoughtful check-in process, offering an exceptional experience to your guests. Don't underestimate the impact this will have on your overall short term rental business. It will help you establish a strong brand image, attract more guests, and receive positive word-of-mouth recommendations, thereby driving business growth.
Always stay attentive to guest needs and prioritize delivering personalized services. This will be the key to standing out in the fiercely competitive short term rental market. Remember, "The devil is in the details," so paying attention to the small things can make a big difference in guest satisfaction and loyalty.