What Do You Need to Know About the Airbnb Connection with Hostex?
By linking Airbnb listings to Hostex, you can manage the availability and price of these listings in Hostex's calendar.
How Can I Add An Airbnb Account to Hostex?
Go to the Channel Manager on the Dashboard.
Click the + button to Add an Airbnb account.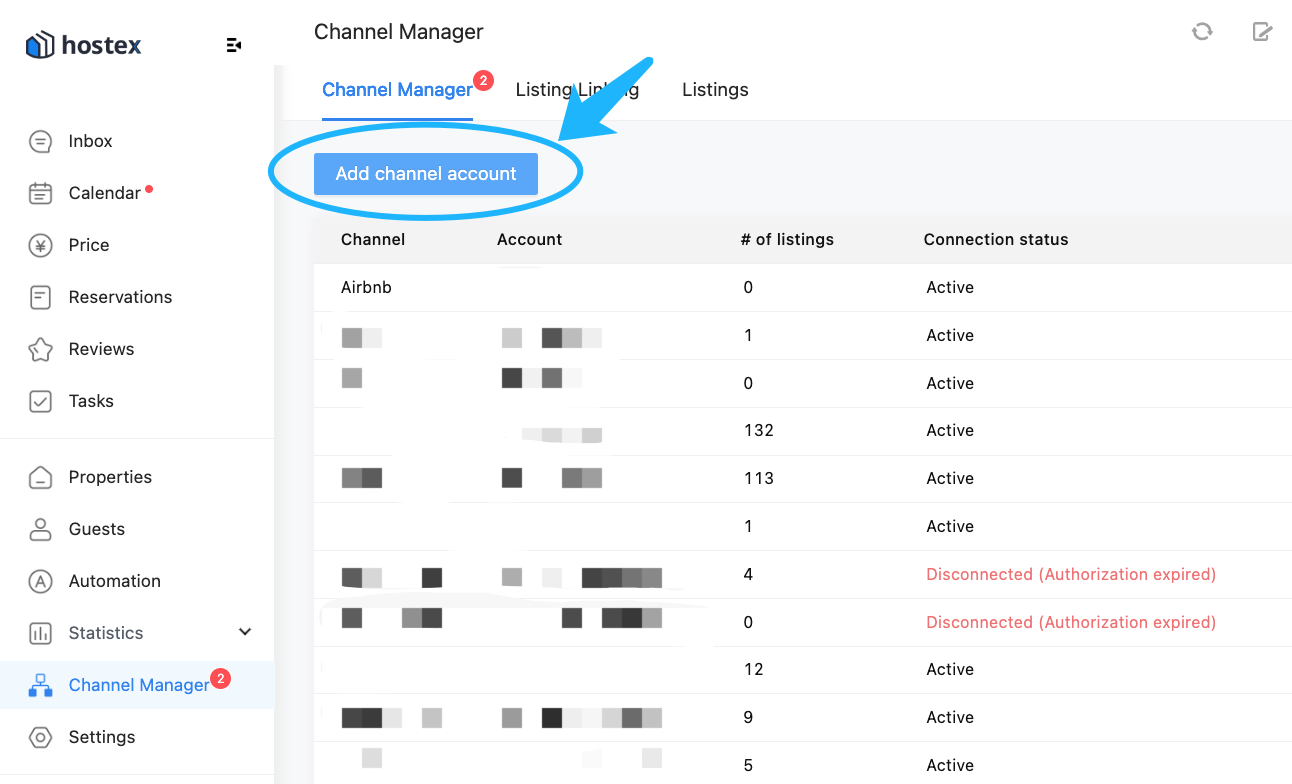 Switch to the Listing Linking view.
Select a listing you want to link.

---
How can I set up the booking rules and availability settings for an Airbnb listing?
Hostex offers seamless connections to your Airbnb accounts. You can easily manage and work directly with your Airbnb listings' settings on Hostex.
To do it,
Go to the Properties feature.
Click on the room linked with Airbnb listing(s).
On the right-hand side, you will find all the listings in this room.
Click on the listing you want to edit.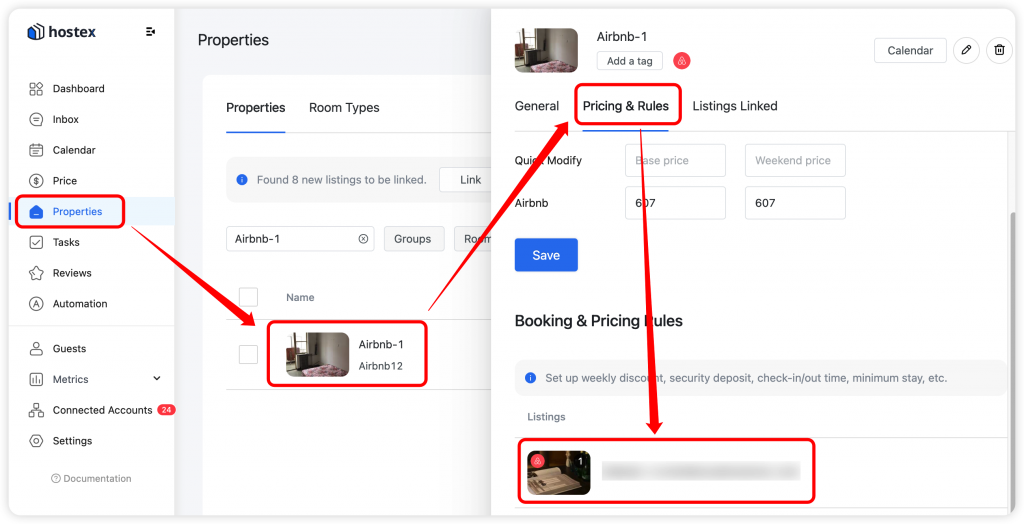 And then you can set up the following settings or rules:
Pricing, which includes:
Base Price
Weekend Price
Weekly discount (%)
Monthly discount (%)
Early-bird discounts
Last-minute discounts
Long-term discount
Security deposit
Price per extra person
Cleaning Fee
Booking settings, which include:
Check-in start time
Check-in end time
Check-out end time
Instant booking
Number of guests permitted
Availability settings, which include:
Number of minimum stay nights
Number of maximum stay nights
Advanced notice for an incoming reservation
Dates you can accept bookings
Distant requests
Preparation time
The check-in or check-out time which is allowed in a week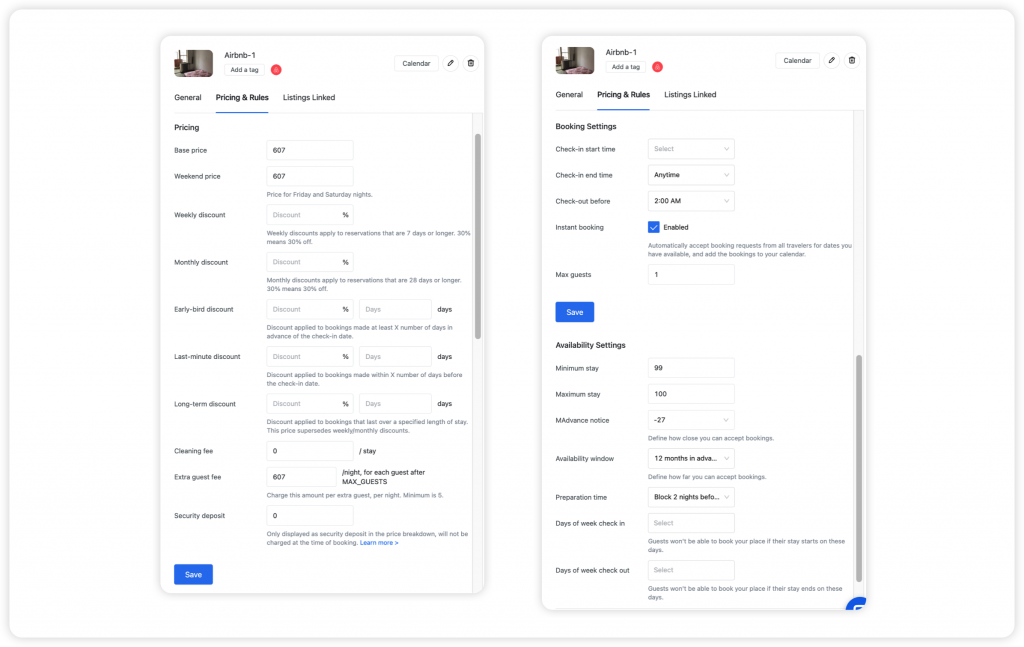 ---
How Can I Enable Multi-inventory for an Airbnb Listing?
You are not able to directly list a multi-inventory listing in Airbnb, but with Hostex, you can set up an Airbnb listing as multiple inventories and easily sync it with other channel listings.
Enabling multi-inventory for an Airbnb listing is very simple:
Switch to the list of linked listings in Channel Manager.
Select a listing you want to link.
Link it to the room type.
Once the linking is done, the inventory for this Airbnb listing is equal to the number of Properties included in that room type.
Note that if your listing is listed in Airbnb by selecting types of places as "Entire place", you will not be able to enable multiple inventories.
---
How to turn off the Instant Book for an Airbnb Listing?
Once an Airbnb listing is linked to Hostex, "Instant Book" will be enabled by default.
You can turn off Instant Book on the Hostex website.
Go to Channel Manager on the Hostex website.
Switch to the Listings page and choose Airbnb channel listings.
Click on the Settings button on the right side of the listing.
Click on [Booking Settings].
Modify the [Who can use Instant Book] item at the bottom of the page.
---
Why Did The Fee Change To Host-Only Fee?
When you manage your listings through PMS software, Airbnb will mandate the service fee to Host Only Fee.
By implementing the host-only fee, Airbnb guests will no longer be surprised by an additional fee added to their final charge at checkout. Hosts have more control over the prices they can set for guest bookings, and guests can see these final prices upfront without getting a surprise when they need to pay. Check the official instructions from Airbnb >>
---
You may encounter the following problems when connecting to your Airbnb account.
1. Unable to Connect Your Account(s)
Each Airbnb account only allows authorizing one PMS.
If you have authorized another PMS, you must log in to the Airbnb website in your computer browser to unauthorize it before connecting your account to Hostex.
Log in to the website.
Click on Avatar – Account – Privacy & Sharing.
Remove access to the other PMS.
2. Listings Failed to Pass the Review
To help create comfortable, reliable stays for guests, Airbnb asks all Hosts to meet some requirements for each of their listings.
When you authorize your Airbnb listings with Hostex, Airbnb will adopt more rigorous auditing criteria to help your listings rank higher and increase the probability of being searched.
Therefore, after you have linked the listings to Hostex, sometimes the listing may show up with the message "Listing amenities don't meet the requirement". But you don't have to worry, this will only affect its management in Hostex, and will not really be paused or suspended.
Solution.
Go to the Properties page of Hostex, and click on "Review details" to check the reason for failure.
Go to the Airbnb website to adjust the listing as required.
Go back to Hostex and click on "Submit" in "Review details".
3. Co-host Account on Airbnb
Airbnb does not support using a co-host account to authorize PMS for listings management, please connect your host account to Hostex.
4. Listings Management
Once you have licensed your Airbnb listings to Hostex for management, here are a few things you need to know.
You can only change availability and price in Hostex, which cannot be changed on the Airbnb website. (View Airbnb Instruction)
When you need to enlist an Airbnb listing, you need to go to the Properties page, click on the Channels section of a property, and then click the "Unlist" button on the Airbnb listing card.