A channel manager is an essential tool for vacation rental property managers.
With this feature, you have much better control over properties listed on multiple vacation rental websites since you can easily manage them from one spot.
Why Should I Use a Channel Manager?
Synced data.
A Channel Manager unites reservations from multiple vacation rental channels under one property. You can control the availability of your property for every channel connected. This also works for grouping several duplicate listings on one channel.
Dates Blocking.
You will see synced reservations between the channels via the Multi-calendar and Reservation Calendar. If one property from a group receives a reservation, the dates will immediately be blocked for the same property on the other channels. This is also true for manual reservations.
Unified Inbox.
Send messages using templates and triggers for Airbnb, Vrbo, and HomeAway guests. If hosts might want to create channel-specific templates, this can also be done in the Template Editor.
Automatic Tasks.
Cleaning tasks will automatically be created by the Hostex system for a property without duplicates.
Pricing and Availability.
Set prices and a minimum stay for the whole property or for each channel individually in the Single Property Calendar.
How Do I Connect Channel Accounts to Hostex?
You can go to the Channel Manager on the Dashboard, and click the + button to connect an account of the platform you choose.
If you are using the web version of Hostex, please click the Add Channel Account button in the Channel Manager.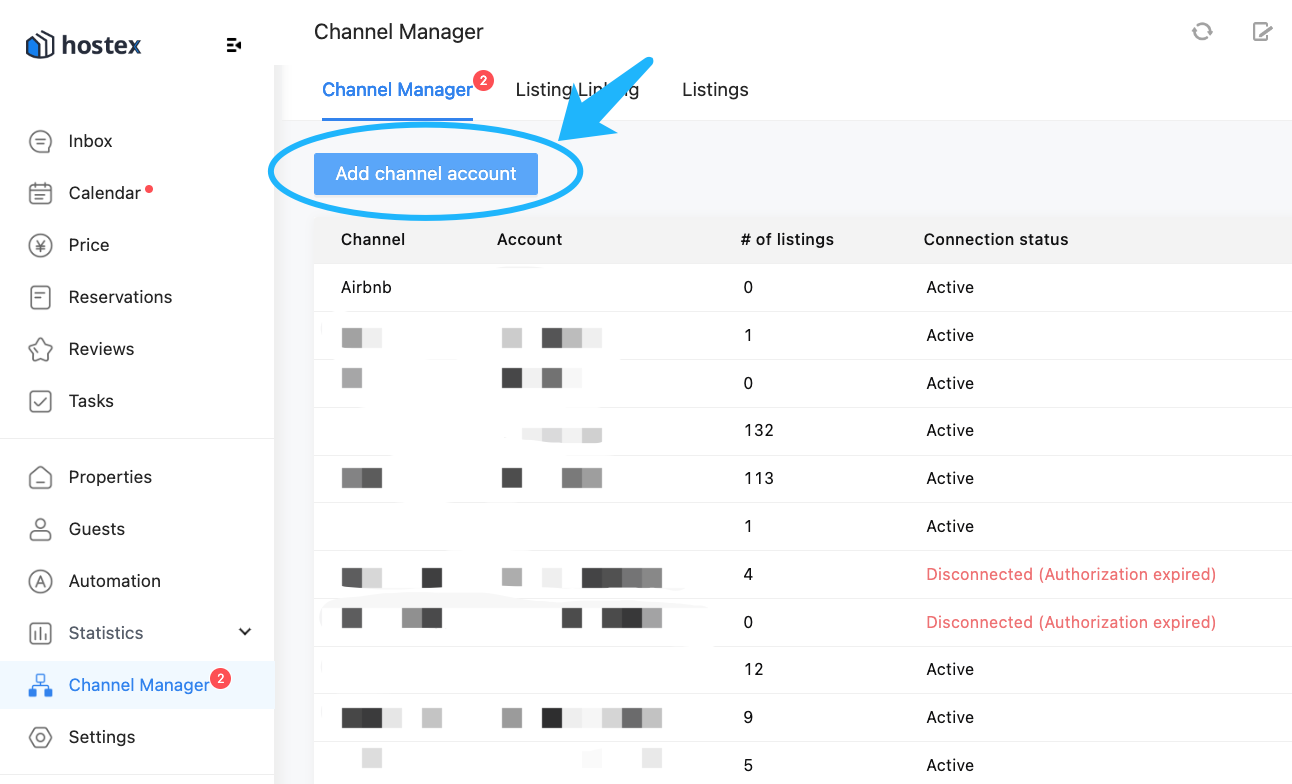 How Do I Link Listings to Hostex?
There are 2 prerequisites before linking listings:
You should link those separate listings to Hostex's PROPERTIES you created,
and the muti-inventory listings to ROOM TYPES.
Steps of link listings:
1. Go to Channel Manager on the dashboard.
2. Switch to the Listing Linking view.
3. Select the listings you want to link.
4. Link it to a property or a room type.
5. Save your settings.
Ensure that the channel icon on the property is lit, this indicates that the binding was successful.
Do you know?
With Hostex, you can set up an Airbnb listing as multiple inventories and easily sync it with other channel listings.
Enabling multi-inventory for an Airbnb listing is very simple:
Switch to the list of linked listings in Channel Manager.
Select a listing you want to link.
Link it to a room type.
Once the linking is done, the inventory for this Airbnb listing is equal to the number of Properties included in that room type. Note that if your listing is listed in Airbnb by selecting types of places as "Entire place", you will not be able to enable multiple inventories.
---
Related Question: