Hostex: All-in-One Short-Term Rental Management Software for Airbnb Hosts
Managing short-term rentals can be a daunting task, with the need to juggle multiple properties, bookings, and guest communication. That's where Hostex comes in – a comprehensive solution for short-term rental management software that streamlines the rental process from start to finish.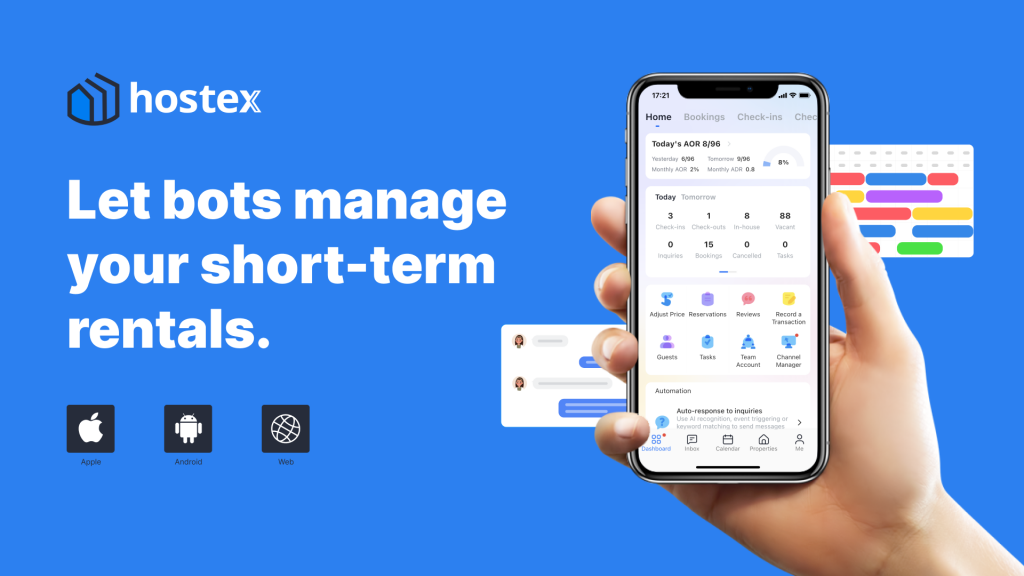 What is Hostex?
Hostex is a cloud-based Property Management System (PMS) that provides a broad range of features, automation tools, and seamless integration with popular booking platforms. This all-inclusive vacation rental software is specifically designed to streamline operations and maximize revenue for Airbnb hosts and property managers.
Why Hostex?
Hostex offers several key features that make it a top choice for property managers in need of a comprehensive short-term rental software solution. These benefits include:
Seamless Integration with Vacation Rental Platforms
Hostex integrates with major vacation rental platforms, including Airbnb, Vrbo, and Booking.com, to streamline your listing management. This allows you to manage all your listings from one place and avoid the hassle of logging into multiple accounts, saving time and increasing productivity for property managers.
Hostex helps you to automatically update rates and availability across all platforms, eliminating the need for manual updates. Moreover, when a property is booked on one channel, Hostex automatically synchronizes and closes the calendar on other channels, preventing the issue of double bookings.
Real-Time Availability and Rate Management
Hostex's real-time availability calendars and easy-to-use rate management system help you stay on top of your rental business. You can easily adjust rates and minimum stay requirements, and the calendar automatically updates to reflect any changes you make. This ensures that your guests always have accurate information about your property's availability and pricing.
Hostex's rate management system also allows you to integrate dynamic pricing tools, which can adjust rates based on demand and other factors. This can help you maximize your revenue and stay competitive in the market.
Automated Messaging System
Hostex aggregates guest messages from all channels and uses deep learning AI to automatically identify guests' inquiries and provide relevant responses. With Hostex's automated messaging system, Airbnb hosts and property managers can provide quick and high-quality customer service to their guests without the need for additional manual labor, saving time and resources. This feature of Hostex's short-term rental software is a great way to optimize guest satisfaction and streamline operations.
Hostex's automated messaging system can also send important reminder messages to guests at key points in their stay, such as booking, check-in, and check-out. These messages can include welcome notes, check-in guides, check-out instructions, and more. This feature helps property managers provide a seamless and stress-free experience for their guests, leading to higher guest satisfaction and increased repeat bookings. Hostex's short-term rental software allows property managers to optimize guest experiences and streamline operations.
Advanced Automation Tools
Hostex's automated review feature automatically sends out reviews to guests and aggregates reviews from different channels. Additionally, the feature automatically responds to reviews based on the star rating given by guests. This feature helps property managers maintain a positive online reputation and engage with guests in a timely and effective manner.
Hostex's automated task feature allows property managers to create automated cleaning tasks for their housekeeping teams. These tasks are triggered based on reservation check-out dates, and housekeeping staff receives automatic reminders from the system. Once completed, property managers receive timely feedback. This ensures that your short-term rental properties are always clean and ready for the next guest.
Flexible Team Collaboration Portal
Hostex has got you covered with its team accounts management feature, allowing you to create custom sub-accounts for your stuff with specific permissions. This means that you can give team members such as customer service reps, accountants, and cleaners access to the features they need to do their job, without giving them access to everything. In turn, this can help boost your team's productivity and ensure that everyone is working together like a well-oiled machine, so you won't have to shoulder all of the responsibilities yourself.
Hostex also offers an owner portal that allows property owners to view their rental revenue, reservations, and other important information. This makes it easy for property owners to stay informed about their properties without having to contact the property manager directly.
Comprehensive Reporting and Analytics
Hostex provides in-depth data and analytics about your short-term rental business. You can view key performance indicators such as occupancy rates, revenue, and average daily rate.
Hostex's reporting capabilities also allow you to identify trends and make informed decisions about pricing and marketing strategies. This level of data and analytics ensures that your rental business is data-driven and can optimize for success.
All-in-one Mobile App
Hostex offers a full-featured mobile app that is available on both the App Store and Google Play. The app allows you to manage every aspect of your short-term rental business on your smartphone. From booking management to messaging, pricing, and more, the app provides access to all the essential features found on https://hostex.io/.
This user-friendly app is easy to navigate, making it a convenient tool for managing your vacation rentals anytime, anywhere, even while on the go and exploring the world.
Cost-Effective Pricing
Hostex is one of the most cost-effective short-term rental management software options available, with prices starting at just $4 per month per room after a 15-day free trial. This makes it an affordable option for rental property owners of all sizes.
Additionally, Hostex offers a referral program that allows you to earn cash rewards for referring new users to the platform.
Conclusion
Hostex is the ultimate scalable solution for short-term rental hosts and property managers looking for comprehensive short-term rental software. With its sleek and intuitive interface, powerful features, seamless integration, and exceptional automation tools, Hostex streamlines operations, increases revenue, and provides a seamless experience for guests.
Try Hostex today and take your short-term rental business to the next level!